Maintenance Schedule
We schedule regular maintenance windows for our IT infrastructure. During these windows, we apply vendor-recommended upgrades and patches. During these scheduled maintenance windows, services may be disrupted. (Old Name BIG Fix, now TEM)
Customer Computers
Thursdays, 9AM-4PM
Our computer management systems apply patches for operating systems and common software packages continuously. However, many software updates are not effective until the computer has been rebooted. Every Thursday between 9AM and 2PM, our management software will alert users if the computer has applied updates that require a reboot. The reboot will not happen automatically, however the dialog box cannot be dismissed if the reboot has not been completed within six hours.
Here is a sample of the reboot reminder window: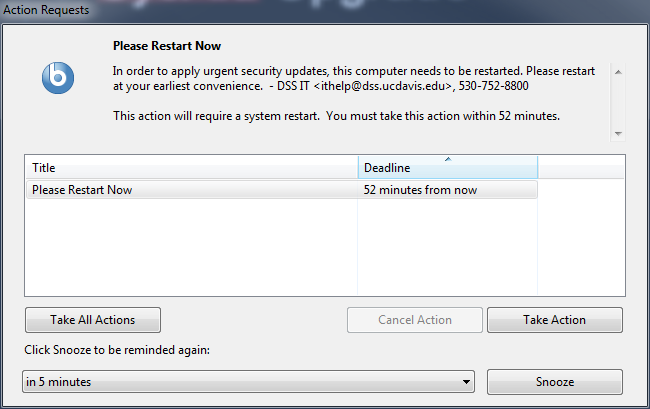 LS IT File and Print Services
2nd Thursday of each month, as needed
The LS IT file and print servers, including DSS-FILER1, DSS-PRINT0 and DSS-PRINT1, will be rebooted to apply patches during this window, as needed.
LS IT Virtualization Cluster
1st and 3rd Thursday of each month, 5PM-7PM, as needed
Most LS IT network services are hosted on the virtualization cluster, including most department and program websites. During these scheduled maintenance windows, these services may not be available. However, these maintenance windows only occur infrequently, typically once every 3-6 months.
Tags